Cadfael in de boekenkast
Ellis Peters: Bibliografie van Broeder Cadfael romans en verhalen (Nederlands/Engels)
| | | | |
| --- | --- | --- | --- |
| Jaar | Nederlands | Engels | Opm. |
| 1977 | Heilig botje bij botje ook: Het heilige vuur | A morbid taste for bones | |
| 1979 | Het laatste lijk ook: Een lijk te veel | One corps too many | |
| 1980 | Het gemene gewas | Monk's hood | |
| 1981 | De kwade knecht | St. Peter's fair | |
| 1981 | De eenzame bruid | The leper of Saint Giles | |
| 1982 | De kille maagd | The virgin in the ice | |
| 1983 | Het vege lijf | The sanctuary sparrow | |
| 1983 | De duivelse droom | The devil's novice | |
| 1984 | De gouden speld | Dead man's ransom | |
| 1984 | Een wisse dood | The pilgrim of hate | |
| 1985 | Een hard gelag | An excellent mysterie | |
| 1986 | De ware aard | The raven in the forgate | |
| 1986 | Een witte roos | The rose rent | |
| 1987 | Het stille woud | The hermit of Eyton Forest | |
| 1988 | De laatste eer | The confession of brother Haluin | |
| 1989 | Het rechte pad | The heretic's apprentice | |
| 1989 | Een zijden haar | The potter's field | |
| 1991 | Een lieve lust | The summer of the Danes | |
| 1992 | De heilige dief | The holy thief | |
| 1994 | De verloren zoon | Brother Cadfael's penance | |
| 1994 | Een bijzondere Benedictijn | A rare Benedictine: The advent of Brother Cadfael | 1 |
De Boekerij is de Nederlandse uitgever van de Cadfael boeken van Ellis Peters.
Thieme uitgeverij heeft in het verleden ook de eerste twee delen (in vertaling) uitgebracht.
Noten
| | |
| --- | --- |
| 1 | Bevat A light on the road to Woodstock, The price of light en Eye witness. |
De in het rood vermelde titels zijn helaas (nog) niet in ons bezit.


Van harte aanbevolen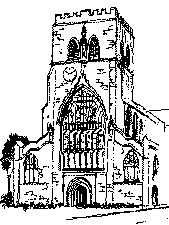 Wil je meer weten over Cadfael, de tijd en het Engeland waarin hij leefde, Shropshire, Shrewsbury, de abdij of het kasteel ?
Kijk dan eens op de fantastische site van Andreas Kühn.


Copyright © 2004 - 2008 by Flying Sheep Inc.